Pain
Management
West of Scotland Chronic Pain Education Group
---
Medication Information
Normally two or three drugs in combination are required to manage complex pain. These should be taken regularly and in sufficient dosage to achieve pain control. This is especially true for medication used to treat neuropathic pain where the effects are often not seen until after 2-4 weeks of treatment.
The provision of pain management therapy and treatments may be affected by other medical conditions — for example pregnancy or anticoagulant therapy.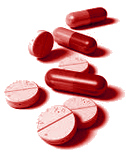 Simple Analgesia
Mild painkillers used to reduce pain, either alone or combined with other therapy


Paracetamol
Opioids (morphine-based painkillers)
Painkillers that act on opiate receptors in the nervous system to reduce the unpleasant sensation of pain.


Fentanyl Patch


Opioids


Butec or Butrans Patches


Transtec Patch
Analgesia for Neuropathic Pain
Painkillers that are particularly suitable for neuropathic pain


Amitriptyline


Carbamazepine


Duloxetine


Gabapentin


Lamotrigine


Pregabalin


Pregabalin and Risks in Pregnancy
Topical Agents
Non-opioid painkillers that are administered as a skin-patch